WHAT IS SLAB-ON-GRADE FOUNDATION?
A slab-on-grade foundation - is a structural engineering system where the foundation for a building (concrete slab) is created from a mold set into the ground. Concrete is then poured into the mold, leaving the concrete slabs lying directly on the ground over a prepared surface.
Slab on grade foundations is a popular choice for construction projects for a number of reasons. Not only do they provide numerous advantages to the owner and builder, but they are also cost-effective and easy to build.
This building method is commonly used:
In warmer climates where frost lines are low.

Where there is no need to install heat ducting beneath the floor (Tubing for radiant heat floor will work).

Where there is no need for a basement.
This system provides effective structural integrity to support walls, upper floor constructions, and load-bearing requirements to complete the building project.
A slab-on-grade foundation must follow the proper concrete thickness required by building engineers or architects and comply with the appropriate building code, depending on the location.
BUILDING SLAB-ON-GRADE FOUNDATIONS
A home with a slab-on-grade foundation has no crawl space. The "slab on grade" is concrete poured over a layer of an approved vapor barrier material that is usually placed on a base of gravel to allow better drainage. It is placed directly on the ground (grade) level. When the concrete is poured at once, it is called a "monolithic" slab. In this way, there are no breaks in the concrete between pours. Wire mesh is used to reinforce the concrete. The concrete's edge is poured to a greater thickness, and reinforcing rods are installed for a stronger perimeter.
Areas within the slab that bear more weight from above are made stronger by pouring a thicker layer of concrete. These variations are stipulated by engineering or architectural professionals to ensure building integrity and longevity.
SLAB ON GRADE VS OTHER FOUNDATION SYSTEMS
The "slab on grade" foundation is extremely efficient due to the dual-purpose function of the basic material. The main disadvantage of doing a basement or stem wall foundation is that it requires a lot more excavation which can be incredibly expensive. Other than that, both basement and stem wall foundations use more concrete because of the walls. In the case of a basement, a lot of lumber is also needed to create the first-floor deck.
A foundation wall consists of a poured concrete footing followed by an 8-inch-thick foundation wall (can be thicker), typically 8 to 10 feet tall. In cold climate zones, this basement foundation is buried below its frost depth level to protect the footings and floor from freezing temperatures.
So, comparing a foundation wall with a slab-on-grade foundation, both systems lay directly on the ground or bedrock and should be properly insulated around the perimeter. One allows having basement space, and the other starts on the ground floor.
A crawl space foundation is a system elevated from the ground, creating a space between the house's first floor and the ground to be able to "crawl" inside, providing access to wirings and plumbing for future maintenance. It consists of footings and walls (usually poured concrete) and is generally used for buildings on stable soil. The main difference between a slab-on-grade foundation and a crawl space foundation is the house's elevation. Slab on grade is directly poured in the ground, while crawl space features walls that elevate the building's level 18 inches or higher.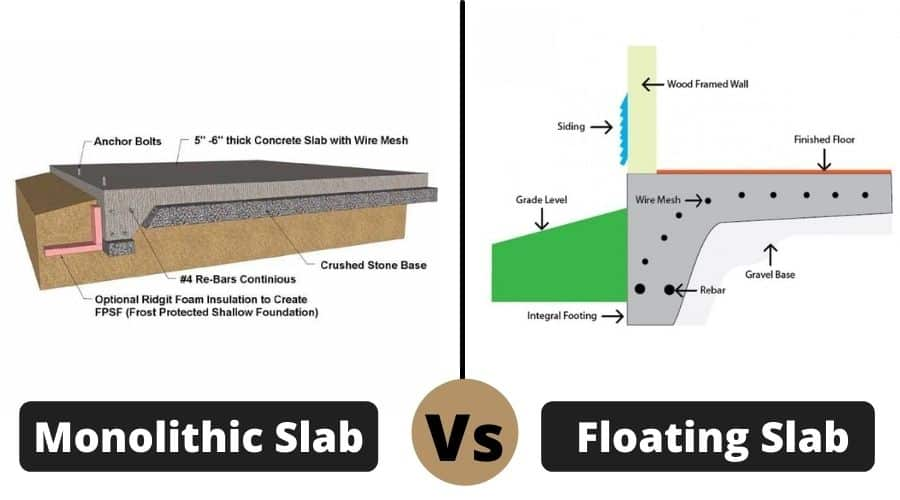 FLOATING SLAB AND MONOLITHIC SLAB
Floating slabs are called "floating" because they are permitted to move the ice line as a monolithic unit. Depending on the requirements of the project, insulation can also be added to lessen movement caused by frost. It refers to a two-stage construction. Footings are poured independently, and the main slab floor is poured after the footings have been cured.
One of the most affordable foundation construction methods is to develop a floating slab. Traditional foundations have a frost wall on top and a strip footing down the edge. The strip footing, typically 4 feet 0 inches below the ground, is positioned below the frost line.
On the other hand, the term Monolithic means "all in a single pour," so, in construction where Monolithic Slab is utilized, the foundation is constructed in a single pour that is made up of a layer of a concrete slab with the thicker fill region under the load-bearing walls and all the perimeter borders to replace the footer. it refers to a one-stage construction. Footings and the main slab floor are poured at the same time. This construction is faster and has lower labor costs as all is done at once.
Because the concrete is poured all at once in a Monolithic Slab, construction is faster and labor expenses are lower. When used properly, Monolithic Slab can be just as sturdy as Stem-Wall slabs.
INSULATING A SLAB-ON-GRADE FOUNDATION
A frost protection procedure is necessary and very effective in cold climates. The slab is protected using two sheets of rigid polystyrene insulation on its perimeter, called skirt insulation.
By laying a piece of rigid foam flat at the bottom of the thicker concrete perimeter and abutting a horizontal piece of rigid foam and on the outside wall of the slab itself, it effectively insulates the concrete, improving structural integrity by decreasing the chances of the soil beneath freezing and cracking the slab. It also helps reduce heat loss, keeping the interior with a higher temperature. This foam can be used under the slab in more extreme cold areas.
This insulation method allows the footings (thicker concrete) around the perimeter and the slab to retain warmth from the home's heated area above. Frank Lloyd Wright started this method (1936). Even Sweden, Finland, and Norway began to use it after WWII. As a proven method, it answers many concerns and relieves us from the burden of digging a basement or installing deep footings.
ADVANTAGES OF SLAB ON GRADE
There are numerous advantages to using slab-on-grade foundations. For a detailed guide, check our blog post article The Benefit of a Slab on Grade Foundation Design – DesignwithFrank among the advantages are:
Affordability

Comfort and efficiency

Reduces problems caused by humidity and water infiltration

Reduces environmental impact

Solid foundation

Less vulnerable to termites
DISADVANTAGES OF SLAB ON GRADE
The choice of foundation is one of many essential choices that must be made while constructing a new home. Slab-on-grade foundations are popular because they are cheaper and more convenient than other solutions. However, there are some drawbacks to this type of foundation that you need to be aware of. Among them are:
Lack of access from below for installation lines

Low house elevation

Difficult to extend or remodel the slab foundation

Plumbing systems are embedded in concrete, so plan your design!
DESIGN WITH ANTICIPATION WHEN USING SLAB ON GRADE FOUNDATION
When using this foundation system, saving space for mechanical systems and storage is essential. We recommend planning your design to create an efficient layout that includes: storage space, laundry facilities, a pantry, and a utility room. A mechanical room can be noisy, so these walls should include sound insulation measures.
Another important factor to consider is the plumbing system. Usually, this system can be accessed from the basement or crawl space, but not with a slab foundation. Plumbing systems are embedded in the concrete and are not easily modified. So, plan for the future! If you are thinking of creating a prospective bathroom, leave all preparations ready in your floorplan design.
When designing a slab-on-grade foundation, it is important to anticipate potential issues that could arise. These include settling the soil over time, moisture problems, and any expansion or contraction of the ground due to temperature changes. Some solutions involve incorporating a layer of crushed stones beneath the slab to prevent the settling of the soil. Add expansion joints in the design to allow for the development and contraction of the ground without damaging the slab.
A practical, good design should consider these issues and account for them. This way, the slab-on-grade foundation can be designed to last for many years.
SLAB ON GRADE AND SUSTAINABILITY
The slab-on-grade building technique lessens your environmental impact in two ways: first, it significantly reduces the amount of CO2 produced during the production and delivery of materials, and second, it provides a wall that is substantially more insulated for every dollar spent.
You are deciding to use above-ground walls instead of foundation walls when constructing a slab-on-grade home. In other words, you're replacing concrete walls with a wall assembly that is far more cost-effective and energy efficient.
FRANK has used this protection method with customers building in cold climates like Maine, Michigan, and Washington. Our team can help you determine the exact foam dimensions based on your area and the site's environment.
The idea of building a sustainable home goes hand in hand with the designer you choose to help you with your project. From start to finish, your design and build team should share completely in your vision for a sustainable home. A good designer known for using eco-friendly products and procedures is your best asset to help you determine a course of action.