Suppose you like living in the country and prefer a simple way to build your home with the comfort of urban amenities and conveniences. In that case, you'll fall in love with a Barndominium. Barndominium has raised in recent years since Fixer Upper, the HGTV show, presented this kind of home-building style. Nowadays, more people started to build their homes from scratch. Barndominium is affordable, durable, and has a customizable casual barn look on the exterior. On the other hand, many homeowners seek alternatives to the typical home in an increasingly expensive market. Barndominium is the option people have been considering.
Understanding Barndominium
Originating in North America, Barndominiums have soared in popularity. Initially popularized in the 1980s by real estate developer Karl Nilsen of Connecticut, they were designed to facilitate easy indoor access to horse stables. Today, the concept has evolved, often encompassing workshops, studios, or garages in the living space. Although many are transformed barns, newly constructed ones are gaining traction.

Barndominiums are typically sizable structures, ranging from 200 to 1500 square feet or more. The open-concept layout offers floor plan flexibility, accommodating an extensive living area and high vaulted ceilings. While most of the barndominiums built on its early release are made of steel, the current market now offers versatile solutions to building such as SIP panels, and the most popular is using the conventional wood frame system.
How much does a Barndominium cost?
Families of three to four can live comfortably in a 1,500 - 2,000-square-foot home. Luxury or custom houses cost as much or as little as financing allows, while builder-grade new homes cost about $250 - $400 per square foot. The cost of building can vary significantly depending on the region.

The exterior framing of a traditional house, which includes covering the walls with brick or stucco, can cost a good chunk of money. And then there's the roof: it makes up around one-fourth to one-third of your total building cost. With barndominiums, you can skip most. The main expense for the barndominium comes from the shell with a roof. Most people interested in barndominium homes appreciate it for its lower cost of construction.

Many companies provide barndominium kits that make building a barndominium yourself way more manageable than before. Barndominium kit comes with many different sizes, bedrooms, and level options. As long as you have the area size, space plan, and design inspiration, you DIY design the interior layout or work with design with FRANK to design it and hire a local contractor to help with the construction of the foundation and structure. At this point, homeowners could take over as general contractor to complete the finish independently or with the help of other subcontractors.

A basic shell includes the slab, building, plumbing, metal or wood, electrical stub outs, vents, sinks, showers, and washrooms. However, a shell is not a complete home yet. People will still need to design the floor plan inside. At the same time, the cost also ranges from certain factors below:


How much will you do yourself? Are you hiring some help from builders?


What type of exterior and interior are you interested in? Are there any particular additions you have in mind? Some people may wonder about the aesthetics as an alternative to a traditional home, but with our customizable options, you can achieve just what you're looking for. Most of us still opt for traditional wood siding.
Floor planning and interior style
How many rooms do you want for your dream barndominium? Simple or luxury style?
Why Do People Want to Live in a Barndominium?
Apart from the cost-effectiveness of a barndominium, more owners get attracted to the many benefits it offers. Here are some reasons why a barndominium can be your first choice.
The structural design of a barndominium takes less time to construct. It only takes a few weeks to build a barndominium if you choose the predesigned plan or barndominium kits. The barndominium kits offer everything you need for your home. They come with multiple customizable options in size, compartments, and styles, which can aid homeowners in their new construction dilemma.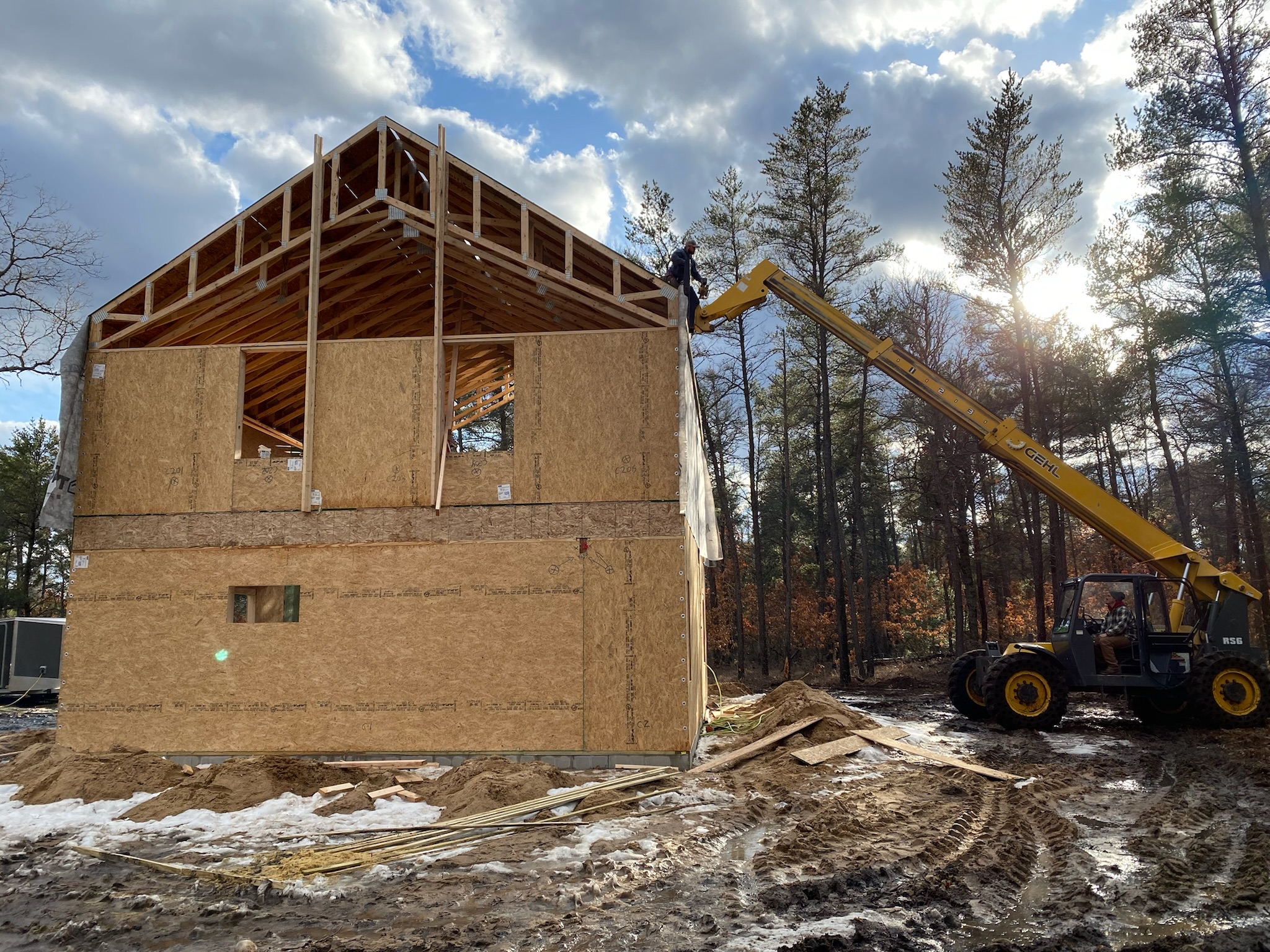 Versatility in living space
Barndominium is presented in a shell, so this kind of rectangular blank space provides pure freedom to interior design. The floor plan is typically an open layout with a great living area with a kitchen and living room that could suit all lifestyles. Barndominiums offer incredible value on a per-square-foot basis. If you have a large family or your business requires a spacious workplace, barndominiums are very beneficial. It is easier to expand and modify the barndominium you have already built for its simplicity of architectural structure.
Most homeowners love how a barndominium could have their living area and a multi-function space (shop, garage, office, gym) in one. During the pandemic, people started to add a work/entertainment space at home, so no wonder why a barndominium is trending now.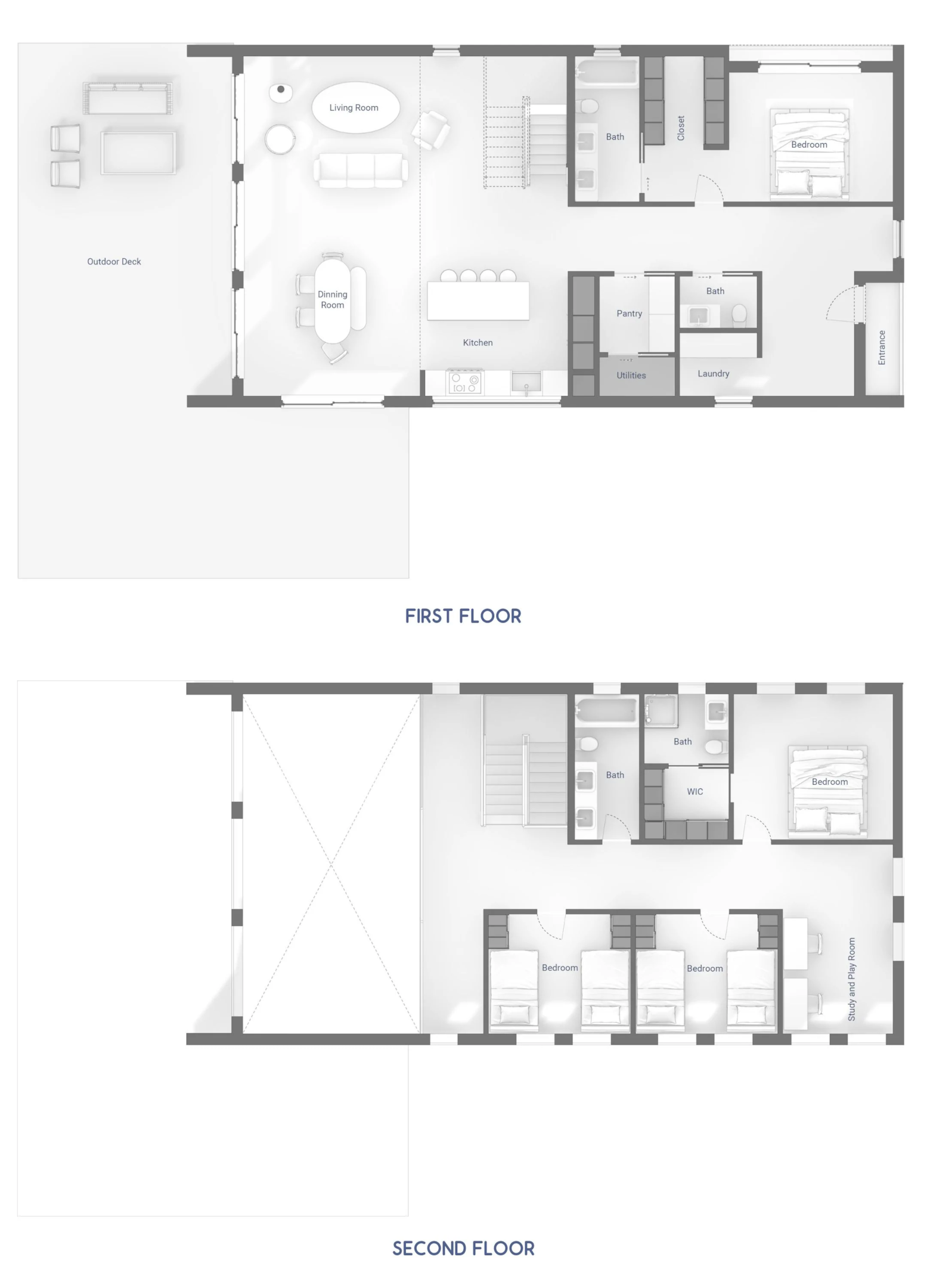 For example, our 4-Bedroom Barndominium plans aim to maximize home usage, offering 4 bedrooms, 3 bathrooms, an open concept living area, and a private office. A unique feature of the house is the covered deck on the first level, which provides extra outdoor space for gathering and brings in sufficient natural light through the double glass sliding door and floor-to-ceiling window above. The spacious master bedroom sits on the first floor, away from the remaining bedroom on the second floor. The loft area could work as a multi-function space for entertainment or a home office.
Advantage of high ceiling
An iconic feature of the barndominium is a raised vaulted ceiling, naturally creating an airy and casual atmosphere. If you desire the rustic barn aesthetic, you could always add a loft to amplify the look. In modern farmhouses, a loft is a common design element that originated from a hayloft. Not only does it look stylish, but a loft also brings extra usable space and privacy for an open floor plan. It also comes with a covered porch which would give you a bird's eye view of the first floor.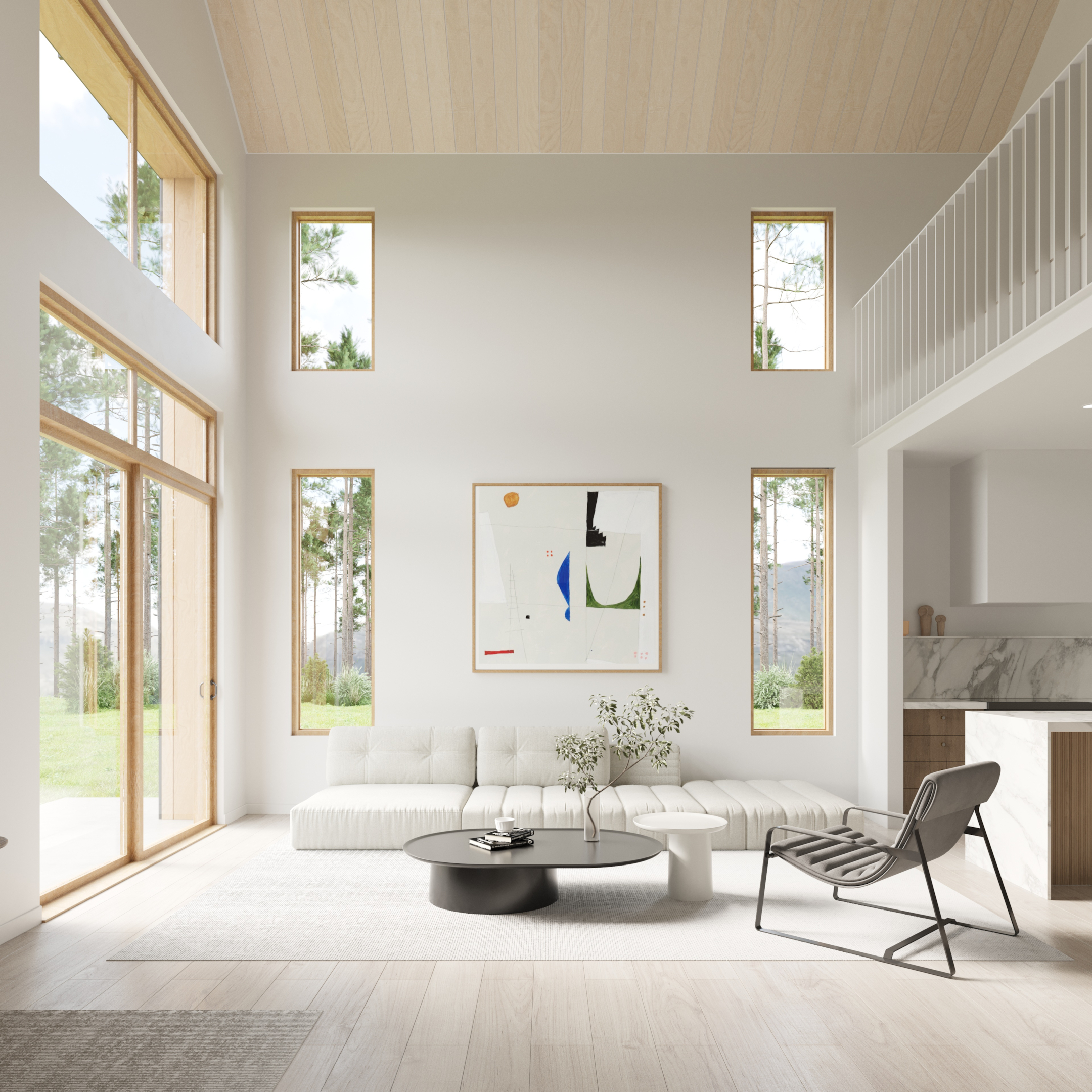 Many wonders if the barndominium is durable compared with traditional building methods. The answer is Yes. A barndominium may be made with traditional wood or metal structure, and with a barrier coating (such as paint) on the surface. When treated properly, there would be excellent resistance to corrosion, mold, and vermin by blocking the water and oxygen. Another trending option is the use of metal standing seam which provides long-term protection against fire, severe weather, and usual environmental factors.
Contrary to conventional homes, a barndominium stands out for its energy efficiency and less demanding maintenance. Owing to the versatility of its construction methods, such as using SIP panels or conventional wood frame systems, the building process of a barndominium can be expedited while keeping costs to a minimum. They usually feature energy-efficient windows, stained concrete floors, engineered concrete slabs, spray foam insulation, and plumbing. All attributes make homes equally resilient to the traditional wood-brick house during extreme weather conditions such as floods or hurricanes. However, for its material, like metal roofs, it could be loud when it rains. Barndominium owners would have to consider the insulation for noises.
What is the downside of a Barndominium?
Barndominium is for sure a good option for many reasons listed above, but here are some potential problems you need to consider before getting one:


While barndominiums offer many advantages, managing climate control can present some challenges. This is largely due to the open-concept layout, which makes temperature regulation across different spaces difficult without independent heating or cooling systems for each room. This can be particularly challenging in multi-bedroom barndominiums with sleeping areas on different levels. However, there are solutions to these challenges.

Firstly, incorporating high-quality insulation within the structure is crucial for temperature regulation. Various insulation types like spray foam, blanket insulation, and rigid boards crafted from polyurethane or fiberglass can prevent heat transfer effectively. Incorporating a radiant bubble foil layer in the attic can be helpful, too, as it reflects the sun's heat, thereby reducing the amount of heat entering the home.

Another method to consider is the implementation of underfloor heating and ductless mini-split cooling systems. These are not only efficient but also budget-friendly.

Lastly, the choice of windows and doors significantly impacts a barndominium's climate control. Double pane windows, which contain an insulative air pocket between panes, can prevent cold drafts. Similarly, insulated external doors can help in maintaining indoor temperature. Low-emissivity windows are particularly beneficial in hotter climates, like Texas, as they can reduce energy loss by up to 50%.

By addressing these factors, the climate control challenges in barndominiums can be effectively managed, ensuring comfort regardless of the external weather conditions.
Start your Barndominium!
Barndominium features a cozy barn style, simple construction, open space planning, and aesthetically high ceilings paired with large windows. With plenty of the barndominium kit available on the market, you could always find one that meets your needs, whether for a permanent home or an additional space to the current house. For the DIY home beginner, it is also a good starter. Anything planned for your barndominium? Try a design with frank kit today!
The FRANK Lake Barndominium plan is the ideal modern Barndominium floor plan for both a vacation home and a primary residency. No matter what your goals are for your dream barndominium house. Build your dream home with our plan sets, and highly detailed best deals to help you prepare for your house plans, whether you're working with a developer or builder. In our collection, you will find your ideal house, which can be modified to your suited concrete foundation if needed.
Using the FRANK design tool, you can quickly sketch out some barndominium floor plans to plan your own Barndo. We also have various barn home templates on our website in the floorplans sections. Feel free to browse our plans to find the perfect fit for your own barndominium project.